Skip to Main Content
It looks like you're using Internet Explorer 11 or older. This website works best with modern browsers such as the latest versions of Chrome, Firefox, Safari, and Edge. If you continue with this browser, you may see unexpected results.
Basic Life Support (BLS)
Welcome to the AMG Clinical Education Basic Life Support resource page. BLS Certification is a bi-annual requirement for all clinical staff. On this page you will find:
Explanation of why BLS is important
Instructions on how to register for BLS certification or renew BLS certification
A list of the VAM (voice assisted manikins) locations
The ministry fax number to fax E-card when received
Contact information for the Ascension Wisconsin Training Center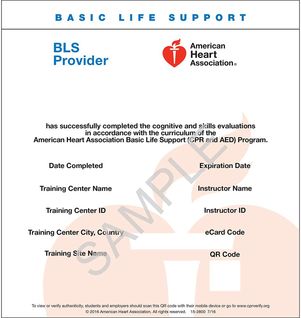 Sample of Old Hard Copy BLS Card Sample of New eCard
Associate Access to their Certification Data
Associates can access their certification information (i.e. expiration date, required/preferred), through the Ascension Portal.
Follow these steps:
Log in to portal.ascensionhealth.org or access through a desktop link
Click MyHR
Click My Info
Click My Personal Info
Click Licenses
Welcome
Benefits Of BLS Training
So if you're wondering why I need BLS training for my position, listed are three great reasons!
1. It saves lives. There's no greater satisfaction than knowing you've helped save a life, that you've done your part to ensure someone still gets to come home to his family or be there for Thanksgiving.
2. When you do basic life saving techniques such as CPR, you don't actually restart someone's heart. Rather, you help him or her keep the blood pumping throughout the body. That means oxygen gets into the brain as well. Since you only have 4 to 6 minutes after the oxygen has been cut off before brain damage starts, BLS helps keep the brain's oxygen supply steady, keeping brain damage and other possible complications at bay.
3. It ensures faster victim recovery. Administering BLS techniques early on makes a difference in the patient's rate of recovery. The sooner you carry out CPR or resuscitation measures, the better the patient's chances at recovery will be.
Adapted from SimpleCPR.com (2014)
Ascension WI Training Center Contact Information
Ascension Wisconsin phone and email support line (effective 08.19.19):
414-447-7051
Provide your location and detailed needs. Someone will respond to your message within 1 business date, unless otherwise noted on voicemail.